With great taste and superior quality, our products make your pizza special


Distinctive Flavor– You'll be proud to serve it on a pizza and your customers
will crave the popular West-Coast flavor.
Excellent Performance – Consistent piece count and slice dealability for more
accurate portion costs, reliable coverage and better operational control.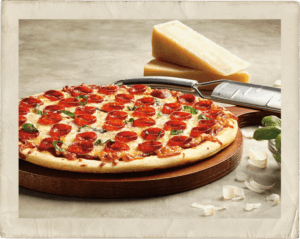 Since 1930 Swiss American Sausage Co. has been the West Coast source for high quality dry and Italian-style sausage products.
Whether you operate a pizzeria or restaurant, or you are a manufacturer, processor or distributor, you can count on Swiss American Sausage for the flavor, variety and quality your business needs.
Our facility in Lathrop, California, makes us optimally located for West Coast distribution. We're committed to your satisfaction and we promise you the highest quality product delivered with the best customer service.
Contact us about more information on Swiss American products.
Swiss American product portfolio
Product
Order Code
Size
Pack
Classic-Style Pepperoni –

Combines the signature spicy West Coast-Style flavor and perfect deep cupping

Classic-Style Sliced Pepperoni
52357
19-20 Slices/oz
1/10 lbs
Classic-Style Sliced Pepperoni, Hot & Spicy
58363
19 Slices/oz
1/10 lbs
West Coast-Style Pepperoni & Sausages –

Notable for its immediate smoky heat, popular on the West Coast

Sliced Pepperoni
52379
True 16 Slices/oz
2/12.5 lbs
Sliced Pepperoni
52384
19 Slices/oz
2/12.5 lbs
Sliced Beef Pepperoni
52374
True 15 Slices/oz
1/10 lbs
Sliced Pepperoni, Natural
63432
18 Slices/oz
1/10 lbs
Sliced Pepperoni, Large Diameter
52386
7 Slices/oz
1/10 lbs
Sliced Pepperoni, Sandwich-Style
52387
4 Slices/oz
1/10 lbs
Natural Sliced Italian Dry Salami
44943
8 Slices/oz
2/5 lbs
Sliced Italian Dry Salami
52367
8 Slices/oz
2/5 lbs
Sliced Linguicia
52344
10-14 Slices/oz
4/2.5 lbs
Raw Sausage –

Premium raw sausage available in an assortment of distinctive flavor profiles

Raw Italian Sausage
52360
Bulk
4/5 lbs
Raw Italian Sausage, Mild
52352
Bulk
4/5 lbs
Raw Italian Sausage, Hot
70657
Bulk
4/5 lbs
Raw Italian Sausage Links, Mild
28711
4 Links/lb
1/10 lbs
Raw Linguica Sausage
06730
Bulk
4/5 lbs