Ramekins filled with layers of Breakfast sausage mozzarella cheese, tomato slices, mushrooms, onions and slices of bread; covered with a mixture of eggs, milk, basil, oregano, cayenne pepper and Parmesan.  Baked until lightly browned.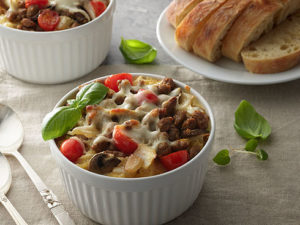 American Breakfast Other Sausage, Breakfast Sausage, Italian
For more menu inspirations, please visit: BurkeCorp.com/Menu-Ideas
More Menu Ideas
BurkeCorp.com | 800.654.1152
For best printing results, change your print layout to landscape.